Terms and Conditions of trade
Orders
Orders can be placed via this website, via easy-pv.ie, over the phone and by email. It is the customers responsibility to check that the details of quotes are correct before confirming the order.
Design
PV and battery storage system design also remain the sole responsibility of the customer, although we are happy to provide guidance. If you are using easy-pv.ie you should read the terms of use/disclaimer in the help section.
Our mounting calculations are based on 1200mm hook spacing; we recommend under all circumstances to verify snow and wind loadings to ensure this spacing is sufficient. Kit designs assume panels in portrait orientation standard tile roof hooks, due south orientation, no shading or other site specific issues. PV kits are subject to availability and only while stocks last.
We do our utmost to ensure information and documentation on our website and on easy-pv is accurate and up to date. Midsummer Renewables take no liability should any of this information or documentation be incorrect or outdated, and it is ultimately the responsibility of the buyer/customer to ensure they are satisfied with the products and system design prior to purchase.

Quotes & Orders
Prices on quotes (whether on Midsummer.ie or Easy-PV) are valid for a maximum of 30 calendar days from the date of issue.
Payment and delivery must be organised once the order is placed.
Any orders that are placed without payment will be cancelled after 5 working days if we do not receive any communication regarding that order.
If an order is placed with payment, but no delivery or collection has been arranged within 10 working days, and no communication is received, the order will be cancelled and you will be refunded for your order.
Payment
Unless you have credit terms with us payment must be made prior to despatch. We accept bank transfers, debit and credit card payments online or over the phone, and cash – please note we do not accept payments by cheque.
Payment terms and credit limits on any credit facility offered are at the discretion of Midsummer Energy Ltd and subject to our Credit Terms. Late payment of invoices will lead to the removal or reduction of a credit facility.
Retention of Title
Midsummer Renewables retains legal ownership of all goods supplied until full payment has been received, and reserves the right to enter the buyer's premises for the purpose of repossesing the goods, in the event that payment in full is not received in accordance with agreed terms.
Midsummer Renewables further retains title of any goods supplied until all outstanding invoices on the buyer's account have been settled in full.
Delivery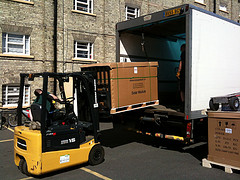 Orders for DPD delivery (smaller parcels) that are placed with payment before 10am can usually be dispatched the same day. All orders including pallet deliveries placed before 5pm can be dispatched the following day, and will reach the destination 1-2 working days after the day of dispatch.
Delivery is by pallet courier, or DPD couriers for smaller items. Title and risk in the goods passes to the buyer on delivery. Palletised deliveries are always kerbside, at the driver's discretion / access limitations that they may be able to move the goods on to the property.
Although we are selective about which couriers we use, and aim to only partner with those offering reliable service, we unfortunately cannot guarantee timed or next day services.
It is the buyer's responsibility to ensure that someone will be available at the address given to receive, inspect and sign for the delivery, and to provide a phone number of the contact that is receiving the delivery. Any delivery that is attempted but fails due to the absence of an available recipient of the shipment will be chargeable. If the address or date are incorrect and a redelivery is required, these are also chargeable in full to the buyer, which is why we stress to please check your order confirmation carefully.

Collection
Collection from our warehouse is free of charge, but needs to be booked with us in advance, to allow the warehouse staff to prepare your order, so as to not delay you during collection.
When your order arrives
As soon as you receive your order please check the contents. Any damage to the packaging or goods should be noted when you sign for the goods. While it's rare for breakages to happen in transit, it can happen, so if you have ordered solar panels we very strongly recommend you check the panels BEFORE signing with the courier that it has been received in good condition. Alternatively, please sign as unchecked.
You should check the contents against the packing note or quotation that you have received. Any missing or damaged items should be reported to us within 24 hours by phone or email. Midsummer will not be liable for the cost of replacement goods if notified after this period.
Midsummer will refund for or replace any goods which arrive damaged, with replacements sent on a next day basis subject to stock availability, but will not be liable for any further costs arising from the arrival of damaged goods on site. Delayed deliveries and damage in transit can happen occasionally, and may impact installations planned for the day of delivery. That is a risk associated with delivering to site directly (offset by an operational saving on rent for storage of stock) and should be priced into the installation. Midsummer will work closely with customers to resolve issues as quickly and inexpensively as possible, but our financial liability for delays, errors and damage in transit is strictly limited to the value of the order itself, including delivery.
Information
We endeavour to keep the information our website accurate and fully up-to-date, and aim to fulfil orders promptly and to the full satisfaction of our customers. However, we do reserve the right to refuse orders at our sole discretion, to change the price and specification of items listed on the website, and to withdraw items from sale at any time.
Returns
If a product we sell proves to be defective, you should notify us within seven days. We will take the goods back and replace the item or refund the money you have paid, including delivery costs. You may also return unwanted items within two weeks, provided they are still in their original, undamaged packaging. If you return an unwanted item, you are responsible for delivery of the item back to us, adequately insured, at your expense. We will refund the price of the item, but not the cost of delivering it to you.
On some occasions goods may be subject to a re-stocking fee.
Many of our products are covered by manufacturers warranties. See the individual product pages or the manufacturers websites for details. If you need to make a claim under warranty, please get in touch as the procedure can be different for different manufacturers.
Complaints
We aim to provide a helpful, friendly service. However, if you do find any cause for complaint, please get in touch, and we will do our best to resolve the problem to your satisfaction. In the unlikely event of a legal dispute, you agree to be governed by the laws of Ireland, and submit to the exclusive jurisdiction of the Irish courts.
Acceptance
These Conditions are deemed accepted by the customer when products or services have been accessed or ordered by the customer.
If you are not able to find the information that you're looking for on our website, please get in touch with us on +353 1969 7687