EcoFlow Delta 2 Power Station - 1024Wh
Delta
€

903.50
Log in or register for trade discounts!
Quantity:
BUY!
tell me more
Introducing the EcoFlow Delta 2 Power Station: Unleash Your Power, Anywhere, Anytime.
NOW AT A REDUCED PRICE!!
Are you a professional seeking a reliable and compact power solution that keeps your operations running smoothly, even off the grid? Look no further! The EcoFlow Delta 2 Power Station is your perfect partner in the pursuit of efficient, sustainable energy management.
Compact Design, Uncompromising Power:
The EcoFlow Delta 2 stands out in the world of portable power stations for its exceptional blend of compactness and storage capacity. With a sleek and easy-to-transport design, it's the ideal choice for professionals on the move. Don't be fooled by its size – this mighty powerhouse boasts an impressive storage capacity of 1 kWh, ensuring you have ample energy for your devices, tools, and equipment.
Stay Connected, No Matter Where You Are:
With the EcoFlow Delta 2, you're never out of power, even in remote locations. Whether you're at a job site, on a field expedition, or simply in need of backup power during emergencies, this power station has got your back. Charge your laptops, smartphones, cameras or power your essential tools effortlessly.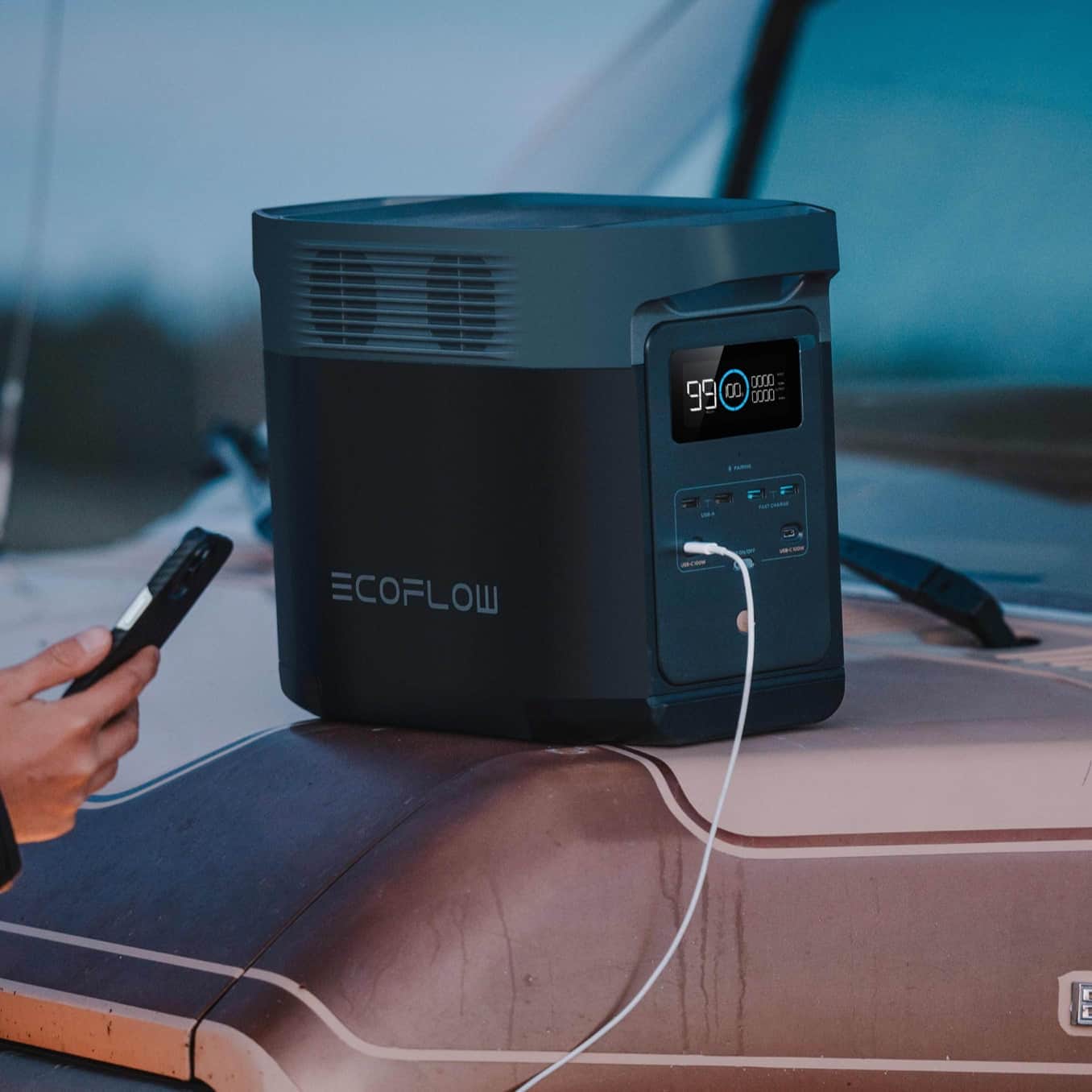 Professional-Grade Reliability:
Our commitment to quality ensures that the EcoFlow Delta 2 is built to withstand the demands of professional use. It's equipped with a robust battery system that provides a consistent power supply, and it can be recharged via solar panels, a car charger, or a standard wall outlet. This versatility makes it a practical and dependable choice for your energy needs.
Effortless Monitoring and Control:
Keep an eye on your power consumption with the intuitive EcoFlow app. This user-friendly interface allows you to manage your energy usage efficiently and make informed decisions, ensuring you have power when and where you need it.
In a world where sustainability and electrification are key to mitigating climate change, the EcoFlow Delta 2 Power Station is your partner in making a difference. It's compact, reliable, and eco-friendly – all the qualities a professional like you need. Make the smart choice for your power needs and be a part of the change with the EcoFlow Delta 2. Get yours today and experience power redefined!
SPECIFICATIONS

AC Output - 4 outlets, 1800W total (Surge 2700W)

USB-A Output- 2 ports, 5V, 2.4A, 12W Max

USB-C Output - 2 ports, 5/9/12/15/20V, 5A, 100W Max

DC5521 Output - 2 ports, 12.6V, 3A, 38W Max

Cycle life - 3000 cycles to 80+% capacity

Solar Charging - 11-60V, 15A, 500W max

Battery Chemistry - LFP (LiFePO4 battery)

Connectivity - Wi-Fi & Bluetooth

DC Charging - 1100W -- AC Charging 1200W

Net Weight - 27 lbs / 12 kg

5 Year Warranty
Need even more? Add on the DELTA 2 extra battery to reach 2048Wh